The 57th edition of the Gordon Bennett Cup sets of this month from Nancy in France. With the launch pad for the 18 gas balloons in North East France there is once again a big need for ATC co-ordination of the race, between the race organisers and ANSPs of the possible flight paths.

Normally at this time of year the winds are South Westerly so we can expect the teams to head through French airspace towards DFS (German Airspace). But there is always a chance that winds could take a different turn. PANSA (Poland) and Austrocontrol, ANS CZ, Slovenia Control, LPS Slovakia and Croatia Control are likely recipients of the teams.

In any case the organisers do have to make a huge effort to communicate their competition with all possibly affected ATC Units. It is a huge task and most contacted units will never see the balloons.

We will be closely following the Gordon Bennett again this year and hope to be present at the launch to film some of the action. A historic event with a close interaction with ATC. We wish all the teams good luck and a good journey.
This year the teams are AUT1, SPA1, FIN1, FRA1,2,3, GBR1,2, GER1,2,3, ITA1, RUS1, SUI1,2,3, USA 1,3.

You can read all about this year's Gordon Bennett at http://www.gordonbennett2013.org/

CW


Updates will appear here:
24.08 16:00 The balloons will commence inflation around 18:00. Expected departure from Nancy at 22:30
24.08 16:15 Start Order is: ITA-1, AUT-1, GBR-2, GER-2, SUI-1, FIN-1, USA-1, ESP-1, RUS-1, FR-2, GBR-1, GER-1, SUI-3, USA-2, FR-3, GER-3, SUI-2, FR-1

24.08 20:35 Met conditions improving. Balloons being filled and 22:30 departure still on track. Live Tracking @ http://tracking.way.aero/gordonbennett2013/
Live Cam of departure @ http://www.gordonbennett2013.org/index.php/en-live-cam.html
24.08 22:30 Inflation gas balloons began at 22:40 and can take up to 5 hours. The next pilot briefing will take place between 2:30 and 3:30.

24.08 23:00 Due to meteorological conditions balloons will not leave until sunrise. Currently inflating. Therefore no live tracking or live TV as yet.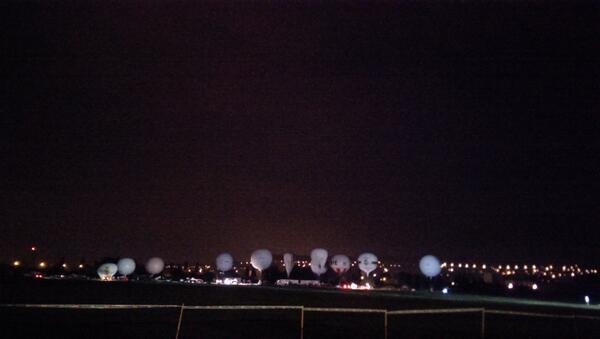 Picture via @GB_Officiel
25.08 01.45 Teams hard at work inflating in Nancy.



Picture via Facebook Gordon Bennett 2013



Picture via Facebook Gordon Bennett 2013Quite a few balloons ready now. Only a few hours before take-off.

25.08 03:15 New Briefing in one hour (04:00)
25.08 05:00 Briefing has taken place. Balloons will start to depart at 05:30.

25.08 06:30 All balloons are airborne.

25.08 10:30 ITA1, SUI2 & RUS1 are heading towards French border Easterly near Strasbourg. USA3, SUI3, FIN1 and AUT1 also heading Easterly direction. All other balloons heading North towards Metz and Luxembourg.




25.08 10:30 Team FIN1 have landed safely local time 09:15 near Sarrebourg.

25.08 12:30 SUI-3 - Mattenberger / Krebs have landed safely near Sarre-Union.
ITA1 also landed near Strasbourg due weather forecasts in Munich direction.

25.08 15:20 USA1 has landed near Boulay-Moselle. 4 balloons landed 14 still flying.

25.08 16:45 USA3 has landed safely near Baden Baden. SUI2 also landed because of weather. N.B tracking site is currently down.

25.08 18:45 Tracking is back online.



Tracking map at 19:00 CET

25.08 21:00 Update from Organisers: Seven crews of the 57th Coupe Aéronautique Gordon Bennett had landed at 07:00 p.m. (local time). One could choose not to spend another night in the air. Ten competitors continue the race. The competition, which started at 05:45 a.m. during the night from Saturday to Sunday from "Grand Nancy-Tomblaine Aeropole" (Meurthe-et-Moselle - France) near to Nancy, promises many surprises.

Finland 1, Italy 1, Switzerland 3, Usa 1 and 3, Switzerland 2, 3 and Germany 3 have landed. France 3 should follow the same path before nightfall. Frontrunners are currently stagnating around Reims. Only the Russian crew seems to think about the option further east over Germany. During next hours, routers crews will have to deal with the circumvention of Paris from the South due to the very important air traffic.

The competitors might go in the direction of Atlantic Ocean and might fly above the sea in order to join Spain and Portugal. A mean to travel the longest distance.

According to the assumptions of flights (before the start), the crews thought that the pilots had to fly above Lorraine for a long before finding favorable winds. That's what happens. Right now, a long night is waiting for the competitors.

The live tracking has met some technical problems at the end of Sunday afternoon because of the huge traffic on the website. The situation should normalize during the next hours

25.08 22:30 FRA3 has landed safely near Le Chesne. FR Ardennes. 9 Balloons are still in the race. All except RUS1 sit in the French region arounds Reims. RUS1 is current leader heading towards Munich. The other 8 balloons are FRA1, GER2, FRA2, ESP1, SUI1, GBR1, GER1, AUT1.

25.08 23:45 Lead Balloons heading over Nort Paris region. Could be that they could hit the Northerly wins to head down to Spain. RUS1 still heading towards Munich.



26.08 01:15 4 Lead balloons are picking up some good winds. 30-40 km/h.
Will be soon hitting the French coast where the Northerly winds should tak them down to Spain. RUS1 still closing in on Munich at 20 km/h. Following 4 balloons also taking good strength winds but behind the first 4.