Seismic activity began on volcano Bardarbunga on the 16th August. The volcano is situated in the North West of Iceland's Vatnakull glacier.

The Meteorological office has raised the alert level to code 'Orange'. Orange is the 2nd highest level meaning "escalating unrest with increased potential of eruption", or is erupting without any major volcanic ash emissions.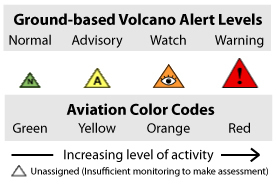 The Met Office reported, "This is the strongest earthquake measured in the region since 1996. As evidence of magma movement shallower than 10 km implies increased potential of a volcanic eruption, the Bárðarbunga aviation color code has been changed to orange. Presently there are no signs of eruption, but it cannot be excluded that the current activity will result in an explosive subglacial eruption, leading to an outburst flood (jökulhlaup) and ash emission. The situation is monitored closely."